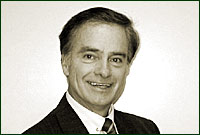 John McCabe has managed the AMF Large Cap Equity Fund and John Hancock Large Cap Select Fund with co-manager Mark Trautman since 1991. In 1995, both became members of the Shay Assets portfolio management team following the Shay acquisition of the investment management capabilities of Nationar, the Funds' former investment adviser, where Mr. McCabe was Senior Vice President and Chief Investment Officer. Prior to joining Nationar, Mr. McCabe served as Managing Director and Portfolio Manager for the Sterling Manhattan Corporation.

Mr. McCabe is a director and past president of the New York Society of Security Analysts (NYSSA), a past director of the Financial Analysts Federation and a member and founding Governor of the Association for Investment Management and Research (AIMR).

Mr. McCabe is also an adjunct Professor of Finance at St. Francis College in Brooklyn Heights, New York.

John J. McCabe
Senior Vice President
Chief Investment Strategist (Equity) and Portfolio Manager

Mutual Fund Strategies
AMF Large Cap Equity Fund
John Hancock Large Cap Select Fund

Separate Account Strategies
Large-cap Core

New York University, MBA, 1970
St. Francis College, B.S., 1965